Monthly Archives:
November 2011
If you're new here, you may want to subscribe to my RSS feed. Thanks for visiting!
Vandy dominated Wake Forest from the ACC 31-7 this past weekend. It was a big weekend for anyone that doubted the SEC dominance over the ACC. South Carolina beat it's hated rival Clemson from the ACC 34-13.
Georgia dominated their arch rival Georgia Tech 31-17 in a game that was not close.
Kentucky beat Tennessee 10-7 to knock the Vols out of a bowl game. Both teams end the season with 5 victories. Mississippi became bowl eligible with a 31-3 over their in state rival Mississippi.
In the Iron Bowl Alabama rolled over Auburn 42-14. The Tide now hopes to have a rematch with LSU in the National Championship game.
Florida was the only SEC team to lose to an ACC team as they lost to Florida State 21-7. So the SEC was 3-1 for the weekend against the ACC.
In the big matchup last Friday between LSU and Arkansas the Tigers remained undefeated 41-17.
LSU remains number 1 in the polls with Alabama number 2, Arkansas between 6 and 8 depending on the poll. Georgia is at 12 and South Carolina at 14.
This week is the SEC Championship Game featuring west division champion LSU and east division champion Georgia. LSU is a 14 point favorite as of Tuesday afternoon.

Vanderbilt football Head Coach James Franklin joins Joe Fisher to look back at the Tennessee game and preview the Wake Forest matchup.

For me this is the biggest weekend of the regular season because most of the big SEC rivalry games are this weekend. For me personally the South Carolina-Clemson is the biggest game but the biggest on the national stage this year is LSU-Arkansas. But I am not sure that's a true rivalry game like say Alabama-Auburn. To be sure it's a big game on the national stage but is it really a rivalry game? Maybe people from Louisiana and Arkansas can let me know if it's their biggest game every year.
Now for my picks this huge week.
Tennessee 28 Kentucky 17 The Vols need this win to become bowl eligible. They actually look like a different team with Tyler Bray back at QB. Kentucky has improved but they just can't score enough points to beat Tennessee in this one.
Georgia Tech 27 Georgia 21 The Tech offense just gets the job done against Georgia. Georgia did not play that well last week against Kentucky. I just got a feeling Tech wins a close one.
Alabama 36 Auburn 14 Auburn has won 7 of the last 10. This year they have a terrible defense and it will take a super effort just to keep the game close. The Tigers looked like they quit at Georgia two weeks ago. Will they fold again if Alabama jumps out to a quick lead? I just don't see them staying close this week.
Vanderbilt 24 Wake Forest 21 Vandy has to win to become bowl eligible. Wake already has six victories. Vanderbilt has played good defense all year and they win this with a late 4th quarter stand.
Mississippi State 30 Ole Miss 21 The last game for Ole Miss coach Houston Nutt. I think the Rebel players will put up a fight but the home crowd at Mississippi State will pull them through. If Mississippi was at home I think they could pull off the upset. This victory will get State bowl eligible.
Florida 35 Florida State 31 I don't know how Florida will score 35 points but I feel they will pull off the upset at home. Another special teams score or two maybe. Florida State is only 2-2 on the road this year. Neither team has been very impressive when I have watched them play.
LSU 28 Arkansas 24 Arkansas will bring their high powered offense into LSU but their defense will let them down. If LSU can get to Arkansas QB Tyler Wilson this could be a long day for the Hogs. LSU will grind out a victory on the ground keeping the Arkansas offense off the field.
South Carolina 20 Clemson 17 A South Carolina team with very little offense against a Clemson team with very little defense. In a big rivalry game the team with the best defense normally wins. Both team come into the game with players limping around. The scary thing is the way Coach Spurrier sometimes likes to prove points. He says they are a running team and he knows that. I hope so. If he keeps the ball on the ground the Gamecocks win. If he tries to prove that Carolina can throw the ball and they turn it over the Gamecocks lose. It's that simple.

Alabama coach Nick Saban starts every press conference the same. How's everybody doing today? He sounds like he hates talking to the press.
Coach Saban says he will not let his players watch LSU-Arkansas.

Press conference with Auburn head coach Gene Chizik on Tuesday Alabama week. Coach Chizik discusses some injuries, how good Alabama is and what it will take for Auburn to win.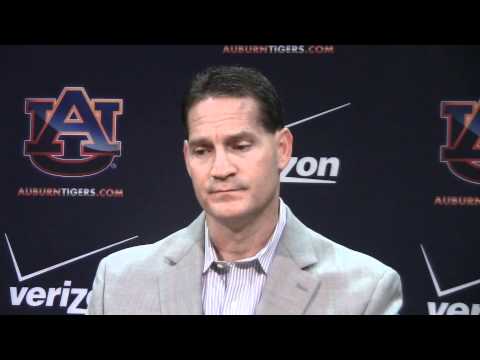 Great deal if you have been wanting to get some Sports Memorabilia Equipment for yourself, your spouse or your kids.. Save $10.00 on every $100.00 you spend. Hundreds of products. Click the link below.

Earn $10 for every $100 spent at SportsMemorabilia.com this Cyber Monday! Offer runs from November 28, 2011 to January 1, 2012!

South Carolina head coach Steve Spurrier spoke to the media on November 22, 2011 prior to Saturday's rivalry game against Clemson.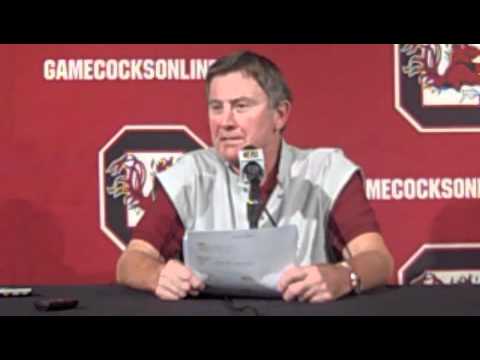 South Carolina has several key players with injuries and so does their rival Clemson. The Gamecocks are hardest hit at LB.

There were a lot of scares early that turned into blow outs as the games went on.The biggest scare was had by Florida during their game with Furman. Furman is no stranger to playing big time teams in big stadiums and were not intimidated jumping out to a 22-7 lead before Florida figured out how to stop the Paladins. The Gators pulled away in the end to win 54-32.
Vanderbilt lost a game at Tennessee 27-21 they needed to win to become bowl eligible. Now both teams have 5 wins and will have to win this weekend to become bowl eligible. There was some controversity over a call at the end of the game but Tennessee with Tyler Bray back at QB just outplayed Vandy.
Kentucky put up a good fight against Georgia but went dowm 19-10. Georgia wins the SEC East with the win.
South Carolina took care of the Citadel 41-20, Auburn beat Samford 35-16 and Alabama whipped a good Georgia Southern team 45-21. They all have big rivalry games this weekend.
LSU destroyed Ole Miss 52-3. The Rebels have had a miserable season and the Tigers have had a great season.
Arkansas took care of Mississippi State 44-17. The Hogs have a huge game this weekend with LSU.
The SEC is dominating college football again with the number 1,2 and 3 teams in all polls. And LSU, Alabama and Arkansas all play in the SEC West. Then you have Georgia and South Carolina both in the top 15. This is a down year for the SEC East by their normal standards. This year is not over yet but for next year all I can is wow. The East will be back and the West will stay strong. That could mean 4 or 5 teams in the top 10 next year at the start of the season.
And all my friends talk about how weak the SEC is this year.

Former Georgia announcer Larry Munson passed away today at the age of 89. He was a true legend. This a tribute video I found of some of his greatest calls. It would take hours to play all of them. A pure pleasure to listen to even if you were pulling for the other side during a game.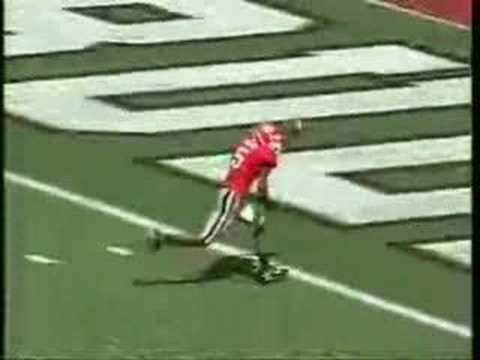 Black Friday sales are getting an early start with our Team Fan Stores and Tailgating Supplies. Get up to 60% off between now and Black Friday weekend. Prepare for the bowl games or next year now with some great deals on thousands of products.
Some of the things I saw I like include your favorite college teams Grill Covers.
How about a new Golf Bag with your team and it's logo on it. Make a great early Christmas present for yourself
For the ladies you can get decorative School Throws to lounge around the house in or SEC  Beach Towels for the beach. Practically everything is on sale to include SEC school clothing.
Of course there are many other products up to 60% off this week. Just visit your favorite School Fan Store above.
Visit the Tailgating Store to get great savings on tents, grills, chairs and 100′s of other gifts..