Monthly Archives:
September 2011
Florida football coach Will Muschamp talks about Alabama coach  Nick Saban.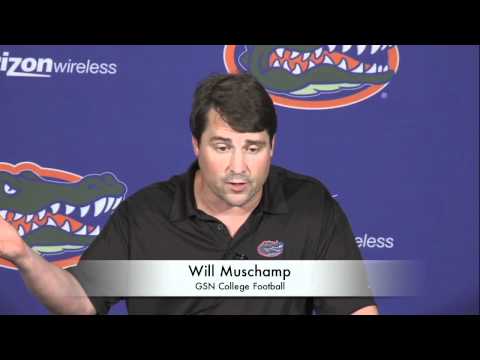 There some interesting games in my week SEC football preview. We should learn a little more this week about a few teams.  Georgia, Mississippi State, Florida  and Arkansas are 4 teams I will be watching this weekend to see how much improvement has been made.
Georgia 24 Mississippi State 17 This game is in Athens and you can bet the Georgia crowd will be rowdy for this one. A month ago I would have picked Mississippi State but they just do not look like a very good football team right now. If the State defense does not come to play Georgia could blow this one open. It looks like Georgia just has to many weapons for Mississippi State.
Alabama 31 Florida 21 Alabama goes on the road to face the much improved Florida Gators. But I don't thing Florida is quite ready for this Alabama defense. The Gators will have some success with the home crowd behind them but Alabama just has to many horses for the Florida defense to slow them down enough to stay in the game for 4 quarters. The Tide pulls away in the second half and come away with the victory.
LSU 56 Kentucky 10 As if LSU needed any help this week the get Jordan Jefferson and Russell Shepard back. Don't know how much either will play but it doesn't really matter against the Wildcats. Kentucky has a bad offense and the defense has not played much better. The only good thing for Kentucky is the game is being played in the daytime in Baton Rouge. The LSU fans will still be recovering from the night before. But the Tigers don't need the crowd for this scrimmage.
Texas A&M 31 Arkansas 30 A&M will be competing in SEC games that count in the SEC race before long. This should be a great football game Saturday in Arlington. Expect a huge crowd at this neutral site. I look for Arkansas to bounce back after their lost to Alabama last week and play a tough game. The team that wins the turnover margin wins the game. Since they are playing in Texas I give it to A&M in the best game of the week.
Tennessee 41 Buffalo 14 Tennesse  QB Tyler Bray should be able to pad his stats this week. This one could get out of hand early. It should be over by the end of the first quarter.
South Carolina 34 Auburn 14 The South Carolina defense played up to it's billing for the first time last week. The offense sputtered all over the place. A lot of the blame is being put on QB Stephen Garcia. However I saw something much more concerning than that. The offensive line play was bad and they also had way to many penalties. I think the OL just had a bad game last week. If not this could be trouble in Columbia. Garcia will be playing with a heavy heart after the passing of his grandfather. Players seem to play better for some reason after a trumatic experience. Garcia quites the boo birds this week with a 300 yard passing game against a weak Auburn secondary.
Ole Miss 28 Fresno State 24 An SEC team as an underdog against Fresno State. Yea I know the game is at Fresno. But Houston Nutt is fighting for his job and I believe his players deliver this week. I don't know how they score 28 points but they will.

Alabama football coach Nick Saban talks about Florida during his week 5 press conference. He thinks Florida will show the Crimson Tide some new looks.



My SEC football rankings after week 4  show some change. A lot of teams are close together and after another week or two I think we will have a much better picture of where teams should be. The only thing for certain are the top two teams (LSU and Alabama)and the bottom two teams (Ole Miss and Kentucky). Mississippi State and Vanderbilt have dropped more than any other teams.  The Commodores need to find some offense to have a winning season.  I can't figure Mississippi State out.
1. LSU
2. Alabama
3. South Carolina
4. Arkansas
5. Florida
6. Georgia
7. Mississippi State
8. Tennessee
9. Vanderbilt
10. Auburn
11. Ole Miss
12. Kentucky

My week 4 SEC football review tells me we have two dominate teams in the SEC West. Florida is improving even quicker than I thought and will challenge South Carolina for the SEC East. Oh yeah don't count out Georgia yet either.
LSU has moved to number one in one of the polls after their defeat of West Virginia 47-21. The Tigers dominated the game both offensively and defensively. Their defense looks like what we expect from an LSU team. Big, tough and fast. Their game with Alabama later in the year should be the game of the year in the SEC.
Alabama put to rest any hopes of Arkansas being in contention for the SEC West with a dominating performance and 38-14 victory against the Hogs. Alabama controlled the line of scrimmage and thus the game. The questions about the Crimson Tide offensive line seem to have been put to rest.
Florida rolled over Kentucky 48-10. Jeff Demps carried the ball only 10 times but rushed for 157 yards and 2 TDs. Florida showed a quick strike capability as they scored 3 touchdowns in four minutes in the first quarter. This team is improving fast and can definetly win the SEC East if South Carolina does not start playing better on offense.
Speaking of the Gamecocks their defense looked all world while their offense looked all nothing in a 21-3 victory. Steve Spurrier apologized to the USC fans for their putrid offensive performance. A lot of fans are calling for Spurrier to bench senior QB Stephen Garcia. But I think Spurrier will give Garcia one more week to try and get out of this funk he is in. All the problems cannot be put on Garcia though. The offensive line had it's worst performance in about 2 years.
Georgia beat Ole Miss 27-13 in Oxford. Mississippi finally found a little offense gaining 183 yards. Freshman Isaiah Crowell rushed for 147 yards on 30 carries, helping the Bulldogs (2-2, 1-1 Southeastern Conference) to the victory.
Mississippi State had to go to overtime to pull out a 26-20 win against Louisiana Tech. I can't figure out what's wrong with the Bulldogs but they better figure it out fast ot they may not even make a bowl game they way they are playing. QB Chris Relf was 14 of 29 for 165 yards guiding the struggling MSU offense. He was sacked three times and threw 2 interceptions.
Auburn beat Florida Atlantic 30-14 but struggled. Auburn had a 10-6 lead until 2 second half interceptions by the Tigers helped put Florida Atlantic away. Auburn seems to be struggling on both offense and defense now. The defense gave up 624 yards to Clemson last week and gave up 307 yards to a team this week that was only averaging 92.5 yards per game.
All in all another great week for SEC football.

South Carolina RB Marcus Lattimore was interviewed before the Vanderbilt game. He leads the nation in rushing and is in the top 3 for the Heisman Trophy this year.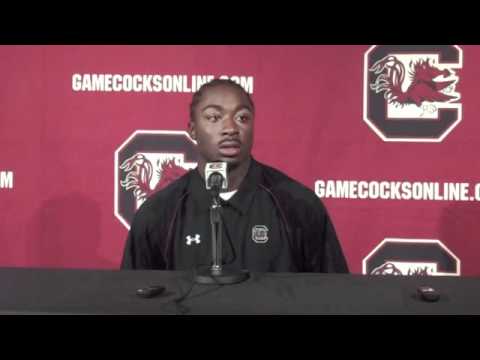 This is week 4 for my SEC fooball preview and competition is picking up. The biggest game I am interested in is the #2 LSU and # 16 West Virginia matchup.
This is the third time in four weeks LSU has played a ranked team. This week they travel to Morgantown to play in prime time again. This should be a great college football game and a tight one. West Virginia has been averaging about 42 points per game on offense and LSU has maybe the best defense in the nation.
There appears to be no real weaknesses on the Tigers team. The home field will give the Mountaineers an advantage but I look for the experience of playing in big games to pull LSU through in a close one.  LSU 24 West Virginia 21.
In the biggest SEC game of the week  # 3 Alabama is at home against # 14 Arkansas. This should be another fantastic SEC game. Alabama is at home. Both teams have played a couple of cupcakes and I am not sure Coach Saban is sold on his QB. I am going with the home team.  Alabama 27 – Arkansas 21.
South Carolina plays a much improved Vanderbilt team  in a night game. Vandy has won more games this year than they won any of the last two years. Their defense has been outstanding with 10 interceptions in 3 games.
The South Carolina passing attack has yet to get untracked but they are looking to put it into high gear this week and give Heisman Trophy canidate Marcus Lattimore break from so many carries. The Vandy defense has not played a team with this many weapons on offense. They will also have to deal with a rowdy night time crowd. This is the week USC gets the passing game untracked.  South Carolina 36 – Vanderbilt 17 
The only thing going for Kentucky in their game with Florida is the game is in Kentucky. Kentucky has had no offense this year against anyone and I don't see them getting it going against the Gators.
 Kentucky will need for Florida to lose this by making turnovers and mistakes. Don't see it happening. Florida 36 – Kentucky 14 
Mississippi State looks to right their ship and get on the right track after two tough losses to LSU and Auburn. The Bulldogs should feel better about themselves after Saturday. MSU 44 – La. Tech 10 
Georgia and Ole Miss will play Saturday in a game both coaches not to mention their teams need to win badly. Georgia got untracked with a 59-0 victory last week over Coastal Carolina. Mississippi has yet to get untracked. It appears the only thing going for the Rebels is this game will be played at home.
But Georgia is better than their 1-2 record. This Georgia team wants to get on a winning streak. Mississippi looks like they are going nowhere fast. Can Houston Nutt survive another uninspired performance by his ballclub? I do look for Ole Miss to come out and put up a good fight but the Georgia talent will overcome in the 4th quarter.  Georgia 28 – Mississippi 24 
Auburn is at home against Florida Atlantic Saturday night. Auburn has one of the worst defenses in the nation but their stats should improve against Florida Atlantic. The Owls have almost no offense. In their first 2 games they have managed only 185 yards total. That means they are averaging less than a 100 yards a game.
 Some good news. This game they will get more than 100 yards against the pitiful Auburn defense. The bad news is the Auburn offense could easily roll up 50 on the the Owls defense. Auburn 49 – Florida Atlantic 17 
Tennessee has a bye week.  That's a wrap on the Week 4 SEC preview.

Georgia coach Mark Richt previews the Mississippi game.

South Carolina head coach Steve Spurrier talks about the upcoming game with Vanderbilt.