Monthly Archives:
August 2011
Alabama coach Nick Saban addressed the media Monday prior to their first game this week against Kent State.

Vanderbilt football coach James Franklin held his first  regular season  press conference. He went over the depth chart and discussed this week's opponent Elon.

South Carolina coach Steve Spurrier held his weekly press conference today and discussed this week's opponent East Carolina. He also discussed the QB situation.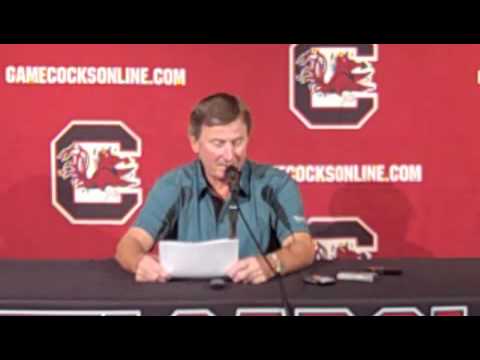 Florida coach Will Muschamp discusses this week's game against FAU.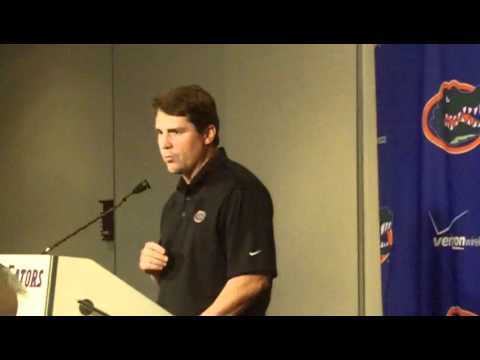 After a lot of studying I have my SEC 2011 East predictions. I actually had more trouble picking the east than I did with the west division. The teams in the east are improving top to bottom, So here are my SEC 2011 East picks.
1. South Carolina
2. Georgia
3. Florida
4. Tennessee
5. Kentucky
6. Vanderbilt
South Carolina – Everyone is picking the Gamecocks to win the SEC East but Phil Steele and ESPN. This was a tough pick at first but after I looked at everything this is theirs' to lose. They have one of the top 2 or 3 RBs in the nation in Marcus Lattimore. The offensive line should be the best in at least the last 10 years at USC maybe longer. Alshon Jeffery is the number 1 or 2 WR in the nation. They have as many as 10 receivers that can play.
The defensive line is one of the top 5 defensive lines in the nation. DE Devin Taylor is exceptional along with DT Travian Robertson. Super freshmen DE Jadevon Clowney will play a lot but I doubt will start right off the bat. The only real question mark is the defensive backfield. Several DBs will mis the first game against East Carolina but return for the Geogia game.
This team has a different mental state than past Gamecock teams. They are talking playing for a National Championship. We will see if they can back it up. In the SEC I have them going 7-1.
Georgia - Georgia and South Carolina play in the second game of the year in Athens. The winner should win the east. Georgia has problems on the DL and WR positions. The Gamecocks strength is the running game. If they can't stop Lattimore it's over for the Bulldogs. They will have their own sensational freshman RB in Isaiah Crowell. If the new Georgia signees are as good as they are reported to be this will be a much improved team.
But new players normally take awhile to get adjusted to the SEC. Georgia and Mark Richt do not have much time with two very tough games to start the season. I have Georgia at 6-2 in the conference losing to South Carolina and Mississippi State even though both games are home games for the Dogs.
Florida – The Gators will finish third if they can defeat Tennessee at home. The OL is a big problem for Florida this year unless they can gel quickly. QB John Brantley needs to play better also after struggling most of last year. The LBs should be the strength of the defense. This team could go 4-4 in the SEC the way I see it. They have to play Alabama and LSU from the west and South Carolina on the road with Georgia in Jacksonville. The new pro style offense may help Brantley but they have to get the ball to RB Jeff Demps in space so he can use his great speed. This team will be hard to read until their 3rd game of the season against Tennessee.
Tennessee – I actually picked Tennessee and Florida to tie for third but gave it to Florida because I think they will win the game in Gainesville. This could be QB Tyler Bray's break out year if the OL can protect him. The RBs too can be much improved if the OL is improved. The thing I look for first is the OL and DL. Without a strong upfront you can't win in the SEC.
Their DL should be okay but what about the defensive backfield with the loss of Janzen Jackson. There just seems to be to many questions about this team for the Vols to make much of a move up in the standings this year. Next year could be a different story. This year 4-4 or 3-5 in the conference is what I see.
Kentucky- The Cats lost their outstanding QB Mike Hartline, 3 RB's and 2 WR'S. On a good note they do return 8 offensive lineman. It's hard to believe that Kentucky has been in 5 straight bowl games. So they do know how to win. They brought in a really good group of WR's and RB's this year. Don't be surprised to see at least two freshmen getting considerable playing time at WR. The 2nd leading returning receiver is TE Jordan Aumiller with just a 193 yards.
I just don't see much offense out of this group of Cats in 2011. The strong point of the team will be the defense. They will have to keep them in games until the offense can gel. They have 3 games to get it together before they start SEC play against Florida. If they can beat Florida at home they should be 3-5 in the conference if not I think 2-6 and they will have to win all 4 non-conference games to make it back to a bowl.
Vanderbilt – Vandy has an experienced OL returning along with an experienced group at WR. As a matter of fact they return all 11 starters on offense. After a QB battle Larry Smith will be the starting QB. The problem is the defense.The LB corp has very little experience. If they can't find a way to shore it up teams will have a field day running the ball against them. Last year Vandy only had two wins. This year all four non-conference games are winnable.
They have two non-conference games before they open up at home against Ole Miss. The Commodores will be 1-0 in the conference after beating Ole Miss at home. So if they can pull out a win against one more conference opponent they could end up with 6 wins and a chance at a bowl. Oh my. But back down to earth Commodore fans. I pick Vandy to be 1-7 in the SEC East. But look out for this team in a few years. They are having a top 25 recruiting class this year and have a great young coach in James Franklin.
So I went with Alabama in the west and South Carolina in the east. Pretty much what most people have been picking. But it will come down to the wire and anyone could wind up in Atlanta in the SEC Football Championship Game.
Two great defenses against 2 great RB's in Marcus Lattimore and Trent Richardson. The Gamecocks get the edge at WR with Alshon Jeffery. The Tide has maybe the best defense in the country. Nick Saban defensive guru against Steve Spurrier offensive guru. They even out. Neither team has great special teams. Comes down to QB play I believe. A 5th year Senior that's battled hard times at USC against a Sophomore that is talented. Well I can't go against some other articles I have written where I said Stephen Garcia would have a break out senior year. As a matter of fact he can have an all conference type of year.
USC by a hair. Spurrier gets his swagger back and USC gets it's first SEC Championship.

  The SEC 2011 West Division  College Football Season is upon us. SEC West teams will be playing this week with the biggest game being the LSU-Oregon game this week. This is my breakdown of the SEC West Division for the 2011 season.
I like to wait until after pre-season practice is over to put out my predictions. A lot can happen during pre-season and boy did a lot happen this preseason. Injuries, suspensions, and bad grades will have teams without key players for part or all of the 2011 college football season.
All things are shaping up to be a great SEC 2011  West Division  season.
Let's get started with the SEC West. My SEC East predictions will be out later today.
1. Alabama
2. Arkansas
3. LSU & Miss State (Tie)
4. Mississippi
5. Auburn
1. Alabama- I am not sold on Alabama completely because of their QB situation. If Alabama was playing Arkansas at Arkansas I may not have picked them to win the West. But since they are playing Arkansas at home and with the problems surroundings LSU I am going with Alabama to represent the West in the SEC Championship in Atlanta. There are few question marks other than the QB situation. The other main area with questions would be the receiving corps. They appear to have some solid receivers but no superstar like Julio Jones.
Before the LSU problems I was leaning toward LSU winning the West but I look for Alabama to be in Atlanta on the strength of their strong defense and the running of RB Trent Richardson.
2. Arkansas- Arkansas has a similar problem to Alabama. Their QB situatuon. Arkansas has a definite starter in Tyler Wilson though. He has waited patiently for his chance. Arkansas fans expect great things from him but being a starter is different than coming in during mop up situations. One of the strengths of the Razorbacks is at WR. Jarius Wright  Greg Childs and Joe Adams are all seniors and good steady receivers. Unfortunately the Hogs lost RB Knile Davis for the year. In my opinion he was one of the top 3 RBs in the SEC. Playing on the road against Alabama and LSU will probably mean a second place finish in the SEC West.
3. LSU- The mental state of LSU players cannot be real good a week before the biggest game of the first weekend of the season against Oregon. It's generally felt that the loser of this game will be out of the running for the BCS Championship Game. LSU will play without their starting QB,WR and a LB. That may be to much to overcome against a very good Oregon team, but if they can pull it off all bets are off on their season.
If the Tigers can get by Miss.State on the road Sept. 15 they could slide into the number 2 spot behind Alabama. But I feel like all the questions about this team right now could kill this team chances of having a good season. Especially if they have a bad showing against Oregon. I have them in a tie for third in the SEC West. If Jefferson is allowed to return to the team they could move up to the number 2 spot. Les Miles will have to do a great coaching job to have this team in contention for the SEC West title. This was my pick to win the west 2 weeks ago but now I have no confidence in them at all.
3. Mississippi State- The Bulldogs hired an excellent coach and recruiter in Dan Mullen. The 2011 schedule sets up beautifully for the Mississippi State Bulldogs as they get LSU, Alabama and South Carolina at home. They do have to play Arkansas on the road. The Bulldogs could finish in 2nd place in the west if they can win 2 out of 3 of those home games. What would it take for them to win the west. Probably go undefeated in the SEC. They are not quite there yet but are very capable of pulling and upset or two. If Alabama stumbles and they can get by Arkansas they could be playing at home the last game of the season against arch rival Ole Miss with a chance to win the SEC West.
4. Mississippi- This is probably my surprise pick to stay out of the cellar. Ole Miss will not finish dead last this year. They have 4 away games in the SEC and all are winnable. Their toughest away game is against rival Mississippi State. They should lose that one. To bad because their at home schedule is really, really tough. Georgia, Alabama, Arkansas and LSU at home could mean 0-4 or 1-3 at best if they can get by Georgia. Three wins maybe four  this year in the SEC for the Rebels.
5. Auburn- Last year everything went the Tigers way. This year with a tough conference schedule I think the wheels fall off. Cam Newton carried this team on his back last year and willed them to win. Well Cam is gone and so are the wins. I see one or two Auburn wins this year in the SEC. They play Ole Miss at home and Florida at home. That's their chance to get a victory or two in conference play. They do have a great RB in Michael Dyer but other than that they will be young and inexperienced. We will find out a lot about them during the 2nd week of the season when they play Miss State at home.
So I am going with Alabama to be playing in the SEC Championship in 2011. If they stumble Arkansas and Mississippi State will be ready to take the SEC 2011 West Division title away from them.

Nick Saban talks after practice about his 2011 Alabama football team and where they are at with the first game rapidly approaching.

Mark Richts name is being brought up for the North Carolina football head coach job. Of course he still is the head football coach at Georgia. So a lot will depend on how his team at Georgia does this year and if he retains his head coaching job there. UNC has the money to try and  hire him away if they have to.
Also another name from the SEC is being brought up as a candidate for the new Athletic Director position at North Carolina. That would be present Athletic Director at South Carolina Eric Hyman. He is a North Carolina graduate. It wiil take big money for the Tar Heels to lure him away from USC. They have no problem with giving up big money. They are currently in the middle of a big expansion of their athletic facilities and will have no problem paying whatever it takes to get him.
USC needs to start putting names together in case he leaves next summer. Head baseball coach Ray Tanner has said he would like to move into administration one day. That would be a good place for USC to start their search if one is needed.
Photos are out of the Marine that Jordan Jefferson of LSU alledgley kicked in the face. I wonder if there is a video? Those players would already be suspended if not for the first game being against Oregon. One loss could knock them out of the running for the BCS Championship unless every other team in America loses one game. It will be interesting to see what happens here. This could turn serious if the charges are true.
Georgia will start the season in new uniforms. The players will be dressed from head-to-toe in all red with a more modern helmet design. The uniforms will be used for the Bulldogs' season-opener against Boise State. The fans reportedly do not like the uniforms. Seems that could be a little to much red.

Following an intense morning practice and team and position meetings, Vanderbilt football head coach James Franklin brought his squad together for what was supposed to be one final talk before the evening session of two-a-days. Franklin had other plans and let his team in on the surprise.