Monthly Archives:
June 2011
Michael Roth and John Taylor planking. Is this mysterious pregame ritual the reason for the South Carolina baseball team's success?

I have been saying for a few months now that the Gamecocks refuse to lose and it happened again last night. South Carolina pulled out a 2-1 victory against Florida. Florida had so many chances to win the game I couldn't keep track of them.
Ray Tanner has to be living right. Florida had the bases loaded with no outs. With the infield
playing in Wingo makes a diving stop, jumps to his feet and quickly throws a ball that makes a short hop that Beary backhanded with his catchers mitt and kept his foot on home plate. The throw from Wingo actually barley missed hitting the catcher's mask. The next man up hit another grounder to Scott Wingo who again made a great throw to Beary who then fired the ball to first base to complete the double play.
Wingo made some great stops again last night, but that play made by Robert Beary was the play of the game. Wingo also drove in the run that tied the game at 1-1 with a single to center that scored Peter Mooney.
Another huge play was Beary concentrating, hanging on to the throw from Williams and applying the tag.  The throw from left fielder Jake Willams was a little off line but it was the throw of his career without a doubt.
After the game Florida coach Kevin O'Sullivan- "Bottom line, South Carolina is the champ for a reason," O'Sullivan said. "They made plays when they needed to. This thing is a long way from over. This is a series. We're disappointed tonight. But when we come out (Tuesday), we'll be ready to go."
Regardless the Florida players have to be down after blowing so many chances.
The winning run was scored by Christian Walker who was not expected to play because of the broke bone in his hand. However they put a brace on it, sprayed it with a numbing spray and he looked and felt good during batting practice.The Gators were not expecting him to steal so he took off to second, made it on a wild throw, took off for third, that throw skipped up into the stands so he was waved home and scored the winning run.
Game 2 tonight.
Somebody needs to make a movie about this team.

South Carolina and Florida two SEC East powerhouses will play each other in the best 2 out of 3 for the 2011 College World Series Championship.
The Gamecocks will be playing with  two days rest after their 13 inning marathon victory against Virginia. Michael Roth who started the game against Virginia will not start the first game, but will start the second game on 3 days rest.
A bigger concern for the Gamecocks is how well rested will stellar closer Matt Price be after throwing what amounted to a complete game against Virginia even though he did not come in until the 7th inning.
Florida will be playing for their first College World Series Championship. If they pull it off they will have won a National Championship  in all 3 major sports.
Coming into Omaha I felt like Florida was the hottest team in the nation the last month of the regular season. USC did take 2 out of 3 from the Gators in Gainesville earlier this year.
The thing you notice right off the bat about USC is how loose this team is. They have been through this against a team that all the big boys said they did not have a chance against, the UCLA Bruins and their mighty pitching staff in2010. All South Carolina did was take two straight from UCLA to win the National Championship.
This year they have a great bullpen, one excellent starter in Roth and two other pretty good starters. But the difference is their refuse to lose attitude. If they get to the 9th inning they just seem to find a way to win.
If I could give Florida any advice it would be if you have the bases loaded you better not hit a ground ball. That has been an automatic double play so far in post season play for USC.  A lot of people are talking about how lucky the Gamecocks are. Well when you have a talented team that does whatever has to be done to win games you usually create your own luck.
I am picking South Carolina to repeat for several reasons.
1. Call it luck or whatever but they don't lose close ballgames.
2. With Jackie Bradley Jr. back roaming the outfield and not looking like someone who has not hit a baseball in 26 games, he just gives this team that little something extra. I believe Ray Tanner called it swagger.
3. The best one two bullpen punch in college baseball with John Taylor coming in for middle relief and Matt Price closing games out. Don't be surprised if these two guys pitch in all three games.  As a matter of fact I expect them to.
4. Ray Tanner. He has been remarkable during the World Series when he has had to make key decisions. He has not made a wrong move yet. He believes in doing whatever has to be done to win today. Tomorrow will just have to wait. The game today is all that matters. The next game is just that.
One thing is for sure no matter who wins the championship it will be one of the most exciting World Series finals ever. I can't wait until Monday at 8 pm EST.

South Carolina will face another SEC East team  Florida  in the finals of the 2011 College World Series. Gamecock coach Ray Tanner speaks with the media after the the amazing victory Friday night at the College World Series against ACC opponent Virginia. The Gamecocks have a chance to win their second straight College World Series. They would  break the record for the most consecutive wins in the College World Series if they can defeat Florida Monday night.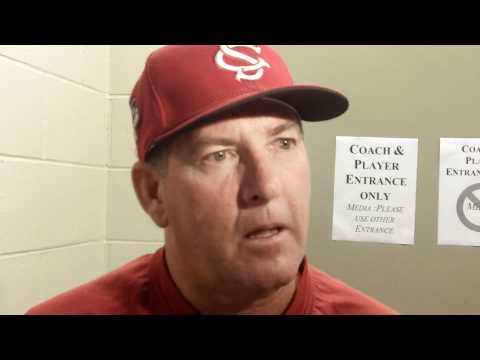 The SEC East is showing why they are the best baseball conference in college baseball. Both South Carolina and Florida are undefeated at 2-0. Vanderbilt is 2-1 after eliminating North Carolina tonight. There are 5 teams left and 3 are from the SEC East. Domination? You bet. We could see two teams from the SEC in the finals of the College World Series.
South Carolina has won 13 straight post season games dating back to last years College World Series. With one more victory they will break the record for most consecutive wins in post season play. Yet it seems the Gamecocks get no respect from the national media. All they talk about are all the first round draft picks the other teams have. Coming into the College World Series I thought Florida was the hottest team in college baseball. But the Gamecock baseball team looks unbeatable right now. They have a group of guys that just refuse to lose.
The ACC had Virginia that was number one  for much of the year and North Carolina in Omaha. Both were sent packing from Omaha by teams from the SEC East. Vanderbilt beat North Carolina twice in less than a week. All you heard was how tough the Virginia pitching staff was yet South Carolina embarrassed them. They rocked the Virgina pitching staff.
I have been watching college baseball for a long time but don't remember any conference much less a division within a conference dominating the College World Series like this. I look for Florida and South Carolina to play in the best 2 out of 3 for the national championship in Omaha. Because of their experience, refuse to lose attitude and bullpen I think USC will win their 2nd consecutive championship.

South Carolina coach Ray Tanner talks about the hard decisions he has to make before the game Sunday night with Texas A&M. Star outfielder Jackie Bradley Jr. looks ready to go and will probably start Sunday in CF. Who will catch and who will start in RF are questions he has to deal with. But getting injured players back is a good thing. His only worry is messing with the team chemistry that has been so good the last month and a half. Personally I don't know how you keep someone with Bradley's talent on the bench. The big decisions will be who will start in RF and LF if Marzilli can go. Beary will start at catcher. It's a good spot for Coach Tanner to be in. Depth in the outfield on the bench for the first time in awhile.