Monthly Archives:
May 2011
If you're new here, you may want to subscribe to my RSS feed. Thanks for visiting!
Florida won the SEC  Tournament with a 4-1 record including a victory over Vanderbilt to win the championship. The Gators are now the number 1 ranked team by Baseball America followed by Virginia, Vanderbilt and South Carolina. The Gamecocks dropped from number 1 to the 4th spot after losing 2 out of 3 at Hoover. All 4 teams will be home in the regionals and if they survive they all should get a home bid in the super regionals.
South Carolina (45-14) will play the number 4 seed Georgia Southern (36-24). Stetson (41-18) number 2 will play will play the 3rd seed N.C. State (34-25). If both South Carolina and Clemson win their regionals the two bitter rivals will play against each other in the super regionals. That will be a hard ticket to get.
Florida (45-16) will play the 4th seed Manhattan (34-17). Then number 2 seed Miami, Fl. (36-21) will play the 3rd seed Jacksonville (36-22).
Vanderbilt (47-10) will take on the number 4 seed Belmont (36-24). The number 2 seed Oklahoma St. (35-23) will take on the 3rd seed Troy (42-17).
LSU did not make the field. Arkansas was the highest rated RPI team (14) to not get a home regional. Instead the NCAA gave a home regional to UCLA with an RPI of (34) and the Bruins also got the number 1 seed. Sounds a little fishy to meet. Must mean the committee has a few members to many from the west coast.
St. Johns and Dallas Baptist got bids over LSU because they finished higher in their conferences. The committee says they are getting away from using the RPI so much and are now looking at more how teams finished in their conference. Excuse me but I think those 2 teams would finish dead last if they played in the SEC. It will be interesting to see how they do in the regionals.

South Carolina the number 1 ranked team in the nation was eliminated from the SEC Tournament Friday night by Georgia. I believe this is a blessing in disguise for the Gamecocks. It was last year and with all the injuries I think a few extra days off will be good for them. Ray Tanner may not think so especially if he puts them through  2 a days like he did last year. I have a feeling they will spend a lot of time in the batting cages before playing in the regionals.
Georgia had to win to keep their regional hopes alive. You cannot get into a regional with a losing record so Georgia (30-29) needs to beat Florida on Saturday to keep their season alive.
Phil Steele's 2011 Preseason All-SEC Football Team is out and available on his blog. On the first team Alabama has 3 players on offense and 4 on the defense. South Carolina and Arkansas have 2 players on the first team offense and 2 on the first team defense. Freshman Jadevon Clowney is on the 3rd team as a DE. Quite a feat without having played a down of college football.
Most teams will start their summer workouts the first week of June. QB Stephen Garcia is expecting to be back with the South Carolina  team by then unless he screws up over the holiday weekend.  Don't think that will happen. You have to think they have someone shadowing him everywhere he goes.
I look for Vanderbilt and Florida to play in the finals Sunday for the SEC Baseball Tournament Championship. I don't think Georgia has enough pitching left to advance.
Former Florida running back Mike Blakely has transferred to Auburn. He will have to sit out a year before being eligible.

USC coach Ray Tanner previews the Southeastern Conference Tournament. Ray talks about the resilience of this team and how proud he is of them. They overcame many injuries and just kept on winning. He says the Gamecocks are going to Hoover to try and win the tournament. Michael Roth wants the ball and will pitch the first game against Auburn on Wednesday.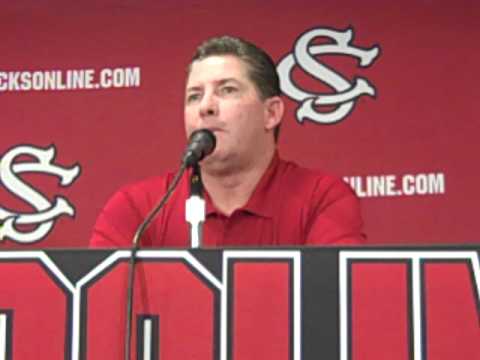 Ray Tanner talks about beating Alabama and winning the SEC championship.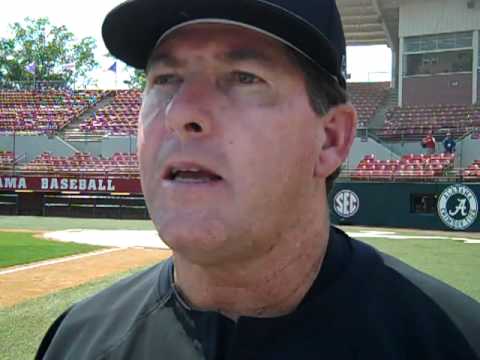 USC after hanging around between number 3 and 7 for most of the year finally made it to number 1 the final week of the regular season. Now can they hang onto it for about 4 or 5 weeks. It will be tough. This team just continues to amaze me. Everyone knows about all the injuries. But there are several key players that have not been as consistent offensively this year as they were last year. Oh yeah and how about the pitching staff. I was worried about the pitching staff all year but they have hung in there and should be in pretty good shape going in to SEC tournament play.
The SEC tournament should be outstanding with 3 of the top 5 teams in the nation (South Carolina, Florida & Vanderbilt) for most of the year battling for the championship. I know it would be great to win the SEC tournament but not at the expense of wearing your arms out before the regionals. Of course I don't think the coaches think that way. Being realistic they can probably win the regionals without using there best arms. The super-regionals is another story. Aaron Fitt of Baseball America expects the SEC to get 3 national number 1 seeds along with the ACC, Texas and one team from out west. He also picked Ray Tanner as his coach of the year and Michael Roth as his pitcher of the year. Sounds like good picks to me.

USC defeated Alabama 3-2 Saturday to win the SEC baseball regular season title. After losing the Thursday night game to Alabama the Gamecocks came back to win 2 straight and claim the crown. The Gamecocks are now the number  1 seed going into the SEC tournament. Colby Holmes was the winning pitcher (5-2) on Saturday and Matt Price got his 15th save of the year. USC will play Wednesday against the number 8 seed Auburn. Arkansas by winning the SEC west comes in as the number 2 seed. The SEC tournament schedule is below.
Wednesday's games
Game 1: No. 7 Alabama vs. No. 2 Arkansas, 10:30 a.m.
Game 2: No. 6 Mississippi State vs. No. 3 Florida, time TBD
Game 3: No. 8 Auburn vs. No. 1 South Carolina, 5:30 p.m.
Game 4: No. 5 Georgia vs. No. 4 Vanderbilt, time TBD
Thursday's games
Game 5: Alabama-Arkansas loser vs. Mississippi State-Florida loser, 10:30 a.m.
Game 6: Auburn-South Carolina loser vs. Georgia-Vanderbilt loser, time TBD
Game 7: Alabama-Arkansas winner vs. Mississippi State-Florida winner, 5:30 p.m.
Game 8: Auburn-South Carolina winner vs. Georgia-Vanderbilt winner, time TBD

LSU head baseball coach Paul Mainieri talks about the disappointing season but the high hope he has going into the final SEC baseball weekend and the SEC Tournament. He still believes LSU can make it into the NCAA Tournament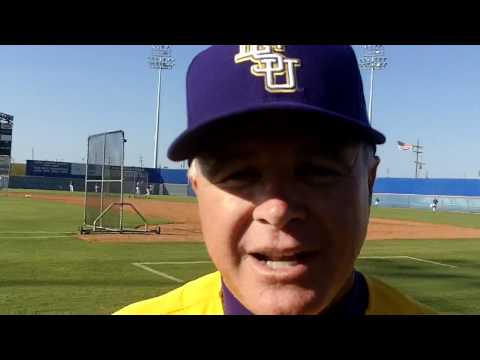 All of the tickets allotted to LSU for the 2011 season opener  in the Cowboy Classic at Cowboys Stadium in Arlington are gone. All of the tickets allotted to LSU were scooped up quickly by LSU season ticket holders, who had the first shot at purchasing tickets to the season opener against the Oregon Ducks. You will be able to watch the game on ABC Saturday, Sept.3, 2011.
In case you did not hear South Carolina RB Marcus Lattimore is 2nd behind Stanford quarterback Andrew Luck in the first Heisman odds for 2011 released by the SBG Global sportsbook. The odds for Lattimore are set at 5-1, with Luck coming in at 5-2. Georgia QB Aaron Murray was listed as a 45-1 long shot.
Some bad news- Alabama OT Aaron Douglas was found dead in Jacksonville,Fl last week. He was 21 . Aaron was expected to contend for the starting left tackle spot in the fall although he battled injuries all spring.
This will be a huge weekend for SEC Baseball with both the east and west division titles on the line. I don't think I have ever heard of 4 teams being tied for first place going into the last weekend of play like they are in the west. Three teams are tied in the east. Should be some great SEC college baseball games this weekend.
The SEC owns 5 straight BCS titles. The last 2 winners Alabama and Auburn were both undefeated. Who do you think can run the table this year?
If you love sports like I do, have a favorite school in the SEC and can put your thoughts on paper then I would love to have you write about it. I am looking for guest bloggers. Need regular fans that have something to say about their school, the SEC , the Atlanta Braves or sports in general. If you have a website of your own you can put a link back to your site. Contact me or send articles to mike@southeastsportstalk.com.

USC Coach Ray Tanner talks about the 7-1 victory over Arkansas on Sunday to take 2 out of 3 during the weekend series. Colby Holmes pitched a great game and came close to pitching the first complete game of the year for the Gamecock staff. The Gamecocks are in a 3 way tie for first place but are in the drivers seat. They just need to worry about their games with Alabama next weekend.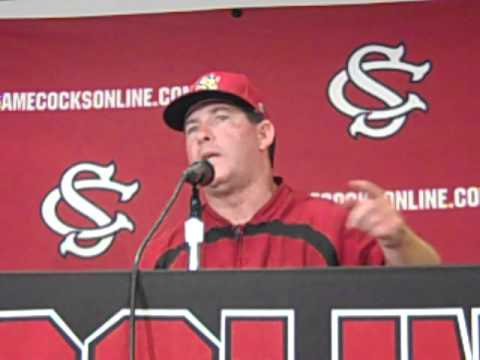 SEC baseball had huge series this weekend all over the conference and after the dust had settled Sunday afternoon there is a 3 way for first place in the SEC East going into the last weekend of the regular season with Vanderbilt, South Carolina and Florida all sitting at 20-7 in conference play.
But check this out there is a 4 way tie for first in the SEC West. Arkansas, Mississippi State, Auburn and Alabama are all tied at 13-14 in conference play. Next weekend will be crazy trying to keep up with who finishes where. It would not surprise me at all if we have a tie for first place in both the east and west, which means we could a tie for first in each division. In the east South Carolina is in the drivers seat if they can take care of business against Alabama. They won 2 out of 3 during the regular season against Florida and Vanderbilt but that only counts for seedings in the SEC Tournament. They would still have to share the conference crown if two or three teams are still tied at the end of the weekend. But they will be on the road against Alabama who would like nothing better than to knock off the Gamecocks and win the SEC West.
Coming into this past weekend Baseball America had South Carolina, Florida, Vanderbilt, Virginia, Oregon State and Arizona State as having locked up those 8 important national seeds. Florida State and Texas are two teams on the bubble for the last 2 spots. Of course each team will have to take care of business in final weekend of regular season play. If you out and get swept by your opponent this weekend all bets are off. So each team needs to come ready to play this weekend.
The Baseball America Top 25 will be out a little later today. It will be interesting to see if there are any changes in the top 10. But more importantly there are a lot of teams on the bubble trying to get into that top 25. It helps if you are in there, especially if you go to your conference tournament and lose two straight. That can end your post season hopes. 64 teams make it into post season play. There are a lot of good teams hanging around the 500 mark or just above it that need to win out this weekend and /or win a game or two in their conference tournament to get in post season play.
I picked up a great little paperback recently if you love baseball. It written by Zack Hample titled "Watching Baseball Smarter: A Professional Fan's Guide for Beginners, Semi-Experts, and Deeply Serious Geeks". It's only 200 pages or so. A collection of baseball trivia, insights and a lot of random stuff about baseball. For instance can you name the 10 ways a pitcher can balk? You will learn more about stats and stadiums than you care to know. There are chapters on each position,  baserunning, hitting, pitching and umpiring and lots more. I suggest you pick it up. Great read while on vacation this summer.