Monthly Archives:
March 2011
If you're new here, you may want to subscribe to my RSS feed. Thanks for visiting!
Ellis Johnson talks about the scrimmage Saturday and todays practice. He is not happy with the young DBs at this point. Ellis says progress is being made but not as much as he would have liked to this point. From what I saw of practice today it was just a typical spring practice. None of the QBs did anything to stand out. Marcus Lattimore looks a little quicker than last year. I also noticed his arms. He has put on some muscle. Kenny Miles caught several passes out of the backfield. Showed his quickness and good hands. Just an average day where players try to get better and fix mistakes that were made in the Saturday scrimmage.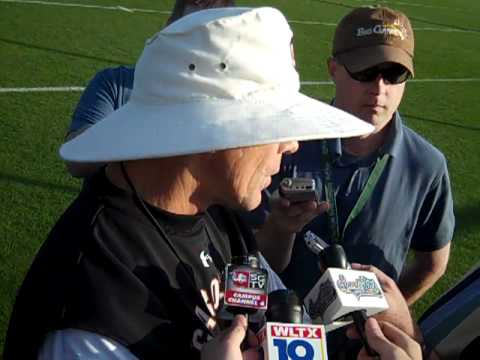 The South Carolina baseball team moved up to number 3 in the Baseball America March 28 Top 25 poll. Florida dropped from number 1 where they had been all season to number 4. Vanderbilt took over the number 1 spot and Virginia moved up to number 2. Clemson dropped out of the rankings and Alabama previously unranked moved into the 25th spot.
Three of the top 4 teams are still from the SEC. LSU stayed in the poll but dropped from 11 to 17. The Tigers are 1-5 in the SEC.

The South Carolina Football team had a scrimmage Saturday morning and from listening to the coaches talk we really learned nothing new about the team. According to Ellis Johnson he saw no improvement in the defense the past week. Some of the younger players he was looking to stand out apparently did nothing to show they are ready to step in. Devin Taylor was the only name I heard mentioned that was standing out in any way.
The really bad thing is it sounds like the same problems with the defensive backfield are still there. Hopefully they get it corrected. 
Of course it's the second week of spring practice and some players are still figuring out what they are supposed to do with the position changes. As they get more familiar with the new positions their play should improve.
On the offensive side of the ball Coach Spurrier does not seem real happy with the QBs right now but that's nothing new. The offense normally takes awhile to catch up with the defense at the start of spring practice. The best thing coming out of this spring practice is the offensive line is pretty well set, at least until the new freshmen linemen arrive.
I can't remember the last time our offense line was set this early in the year. It has been the weak spot of this team for so long. A good line should mean great things for Marcus Lattimore and Stephen Garcia. When Garcia has a little time he is a much better QB, but most are.
The Gamecocks will practice again Tuesday at 4:00pm. With this weather it will not seem much like spring practice. More like practice before a bowl game.

Today was my final spring training game in Port Charlotte. Drove down to see Tampa Bay and Pittsburgh. This is an beautiful spring training location. The park looks brand new. Each stadium has a team store but this one was probably my favorite. They have some unique T-shirts and hats for sale and most of the items were cheaper than other locations. Really enjoyed this spring training location, not to mention the excellent team here.
Tampa Bay was out hit by Pittsburgh 10-9 but Tampa Bay was the victors 9-5. Tampa Bay was credited with 2 errors but they had at least 4 by most fans count. The official scorer was very lenient to say the least. But it was obvious the Rays have a much better team than the Pirates.
The Pirate coaching staff is making the best use of the talent they have by using their speed on the bases and old fashioned bunting. I have never seen a major league club bunt as much as they do.  They do have some excellent speed on the base paths but they look like a team of mostly singles hitters. They are going to have to spend some money to bring in more talent or they are going to be at the bottom of the league for years I am afraid. I did get to see former Gamecock Steve Pierce play 3B for the Pirates. He was 0-3 but made some nice stops in the field.
On the other hand Tampa Bay looks ready to challenge for the American League Championship. They picked up Manny Ramirez in the off season to use as a DH. Right now his teammates are saying nothing but good things about him. He was actually signing autographs and joking with fans before the game. Another major pickup for them was getting OF Johnny Damon. He will be starting in LF. He can still run and looks good. He is also excellent with the fans. If B.J.Upton can get his stroke back after a down year last year and Evan Longoria continues his superb hitting I look for Tampa Bay to be in the World Series. This teams looks good on paper and on the field.
In six spring training games I only saw one game that was not competitive. So it was a great time and I cannot wait to get back next year. Think I will try to make it 2 weeks next year.

My Florida spring training tour made a stop Thursday in Kissimee to see Houston at home against Tampa Bay. The Rays dominated the day and came away with an 11-3 victory. I heard good things about the ballpark from other fans. It was a very good place to take it a major league ballgame. The park is small, only holds about 5300 fans. But you are right on top of the field as you are at most spring training locations. It was a very nice clean ballpark. A Houston Class A minor league team  uses the ballpark during the summer when spring training ends.
The Houston  team looks as though they will not be very competitive this year. I saw them play twice this spring, the other game being against Atlanta. Seems to me their bullpen really needs improvement. In both games their bullpen gave up way to many runs. They were actually in the Atlanta game until they had to go to the bullpen.
The last stop on my spring training tour will in Port Charlotte to watch Tampa Bay and Pittsburgh play on Friday. It will be the 2nd day in a row I have watched the Rays. I am a die-hard Braves fan but would like to find a team in the American League to pull for this year. I think that will be Detroit or Tampa Bay.

It's not surprising that the offense is behind the defense during the first two weeks of USC spring practice. It seems like every spring practice we hear the USC coaches say the same thing.  If you go to any practices you will see the coaches are right. Coach Spurrier hopes the offense will catch up but it's usually the fall practice before the offensive line starts to jell some and the offense starts to catch up.
The Gamecocks will scrimmage again this Saturday morning. It's open to the public. Come out and see for yourself what progress is being made. This will be Stephen Garcia's first scrimmage and I would like to see no interceptions and several TD passes from the rising senior. He needs to improve his decision making and be a leader on the field to have a big senior year. Below are comments he made after practice on Thursday.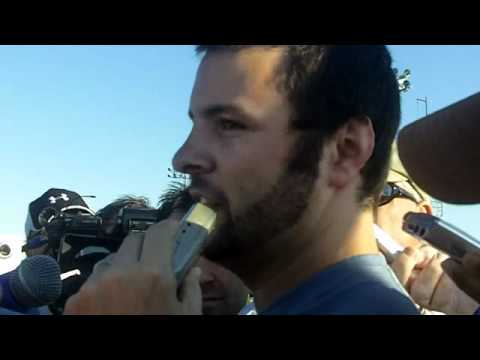 The Yankees and Toronto played Wednesday night to a packed house in a great spring training 2011 baseball game. There was a standing room only crowd on a cool night in Tampa. This was my first time going to George M. Steinbrenner field and it was as beautiful as I had been told it was. It's the largest spring training stadium in Florida. The stadium is across the street from Raymond James stadium where the Bucs play football. There is plenty of parking at the football stadium and I was surprised at how easy it is to get in out of .  The stadium holds a little over 11,000 fans which is a little larger than Atlanta's complex at Disney World.
In the game Wednesday Toronto jumped to a 3-0 lead until the Yankees were able to score 4 in the 7th and 1 in the 8th for a 5-3 victory. Phil Hughes got the win for for New York. David Purcey was on the losing end for Toronto. Toronto actually outplayed the Yankess until the 7th. Alex Rodriguez had 2 hits for Yankees and Yunel Escobar had 2 hits for Toronto.
The Yankees are 10-14 in the Grapefruit League and Toronto has a record of 10-10. Detroit has the best spring training record at 18-10 and the Braves are second with a record of 15-9.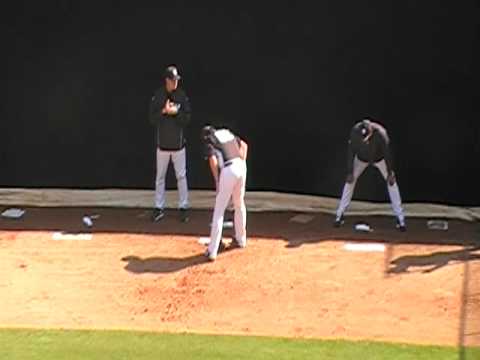 The Gamecocks and Florida should have a great 3 game SEC baseball series this weekend as they battle for first place in the SEC East. The USC bats are heating up at just the right time. Jackie Bradley Jr. has broken out of his slump in a big way and Adam Matthews had a great day Tuesday with two home runs and three hits. They have another warm up contest today against a Rhode Island team (7-9) that's not very good.
The Gators are 19-2 on the year after a 22-5 victory against Winthrop Tuesday night. Tonight they conclude the series with Winthrop. Florida ranked #1 swept a weekend series with #5 LSU over the weekend. What makes that even more impressive is they swept LSU at LSU. That's not an easy feat. Florida has swept all five of it's weekend series this year. They have a 9 game winning streak and will most likely come into the series with a 10 game winning streak. This should be a great battle of these 2 conference rivals.
USC will have to play it's best baseball of the year to win the series at Florida and improve their chances the for the SEC baseball championship. Florida has tough pitching and great hitting. They made a comeback on Sunday against LSU in the top of the ninth when they were down one run. Look for freshmen right-hander Karsten Whitson (3-0) 2.52 ERA to get a start along with Hudson Randall (3-0)0.85 ERA and Brian Johnson (4-0) 1.53 ERA. They don't give up many runs.
 SEC  baseball will show again this weekend why it's where the top college baseball  in the nation is played when these two powerhouses hook up.

Ellis Johnson talks about the defense Tuesday after the Gamecocks 5th spring practice. He is very pleased it seems at this point.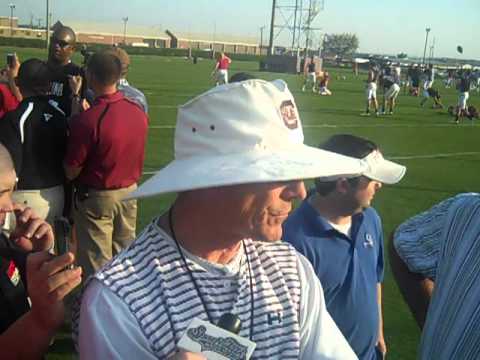 The Tigers and Mets played a spring training game at Tigertown that featured lots of hits and a lot of players playing for both sides. The Mets got 5 runs in the top of the second and the Tigers came back with 4 in the bottom of the second. Jonathon Niese got the win for his second of the spring. Brad Penny was the starter and loser for the Tigers and is (1-1) during spring training.
There were a lot of hard hit balls by both sides but only Willie Harris was able to get one out of the ballpark for his 3rd home run of the spring. David Wright was only 1 for 3 for the New York Mets but hit the ball hard each time he came up. Jose Reyes was 1 for 4 but looked really good in the field at SS.
For the home team Detroit Tigers Victor Martinez was 2-4, 3B Don Kelly was 2 for 2, and scored a run. Kelly started at 3B, handled several chances easily before moving to 1B. Kelly looks like an able backup at first or third. Miguel Cabrera started at 1B and hit the ball hard each time up but only had a double to show for his efforts.
Tigertown in Lakeland is one of my favorite sites to take in a spring training game. They have all types of concessions to keep your tummy full and several shops available to buy mostlyDetroit merchandise. They probably have more merchandise to choose from than any other park in the Grapefruit League including Atlanta.
Several starters did not play for either squad but both of these teams look like they will be very competitive this providing the pitching holds up. I was hoping to see Joel Zumaya pitch again for Detroit. If you are not familiar with him he throws consistently over 100mph. Last year I was sitting two rows behind home plate when he came in and struck out the side against the Yankees. Derek Jeter went back to the dugout shaking his head. Zumaya has been very injury prone and missed the most part of the last 3 seasons because of arm injuries. Hopefully he can last a full year this year. The flamethrower is a treat to watch.